LEED Certified Hotel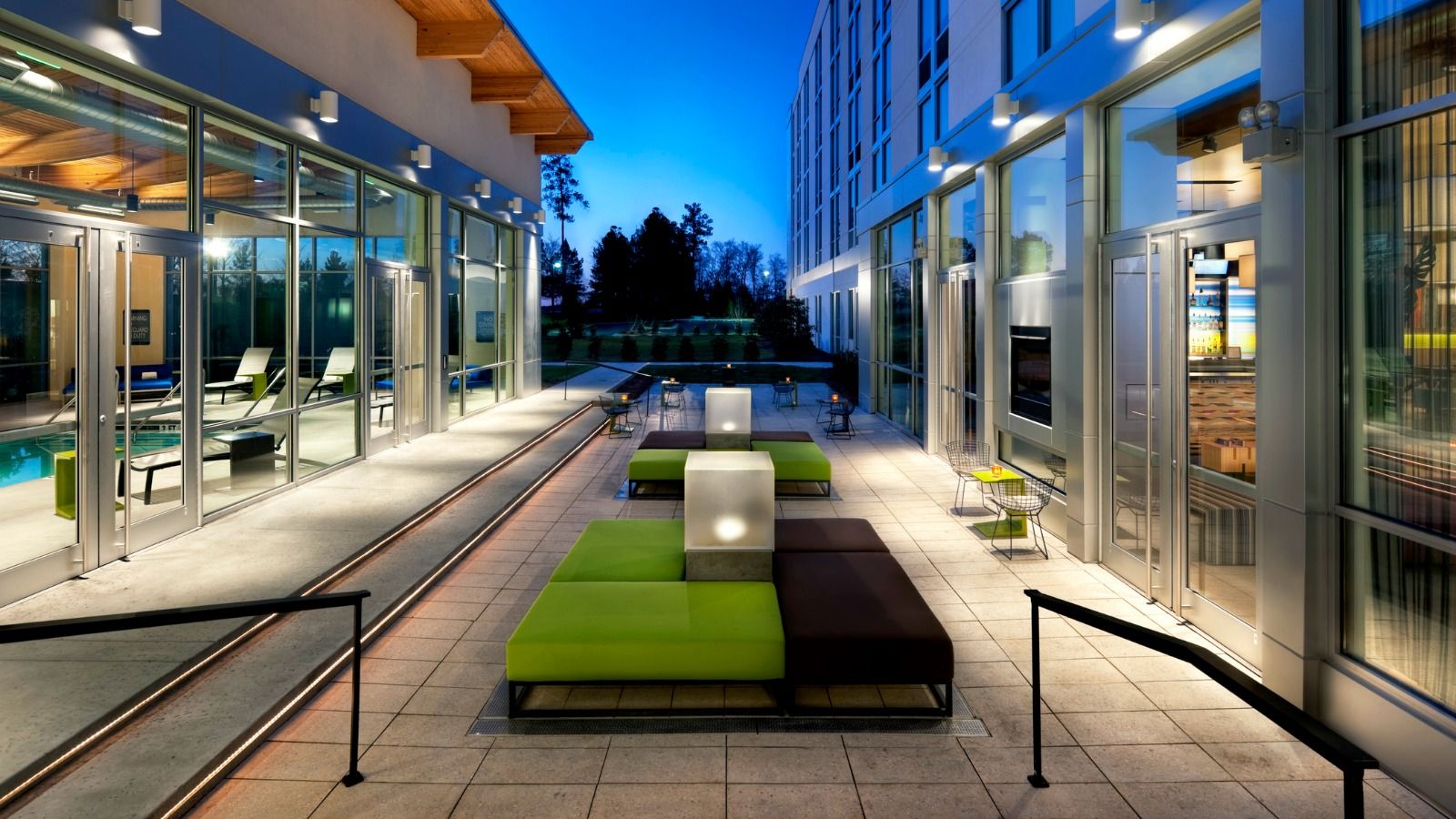 Since 2010, our LEED Certified hotel has been committed to demonstrating best practices in sustainable, efficient and innovative environmental practices. A dedicated green committee meets regularly to continue to develop ways Aloft Charlotte Ballantyne can be more environmentally friendly.
Sustainable Project Highlights & Green Initiatives Include:
Materials Use
Majority of building materials utilized recycled content
Used 100% recycled steel materials during construction
All materials used within project were low-VOC
More than 73.64% of building materials were sourced within a 500-mile radius of project site
Fitness room floor is 100% made from recycled woven PVC
Entry mats are made from recycled tires
Graphics on the bar wall and re:fuel walls are made from 100% plastic bottles (better known as eco resin)
The spheres at the front of the hotel are made from recycled concrete
Wood floor under the pool table area is made from scrap plywood
Wallpaper in meeting room and fitness center is made from recycled vinyl
Energy Efficiency
Through enhanced building performance measures including high-performance building envelope, high-efficiency mechanical systems, high-efficiency elevators and lighting, Aloft will consume 23.2% less energy over a baseline building designed to meet ASHRAE energy standards
To achieve carbon neutral construction, renewable energy credits were purchased to offset 100% of temporary construction electricity utilization
Project reduced carbon emissions by 1,846,655 pounds or 838 metric tons
White TPO Membrane roof reflects light and heat
Hotel key serves as a master switch to conserve electricity
All equipment is ENERGY STAR-certified
Installed motion/occupancy sensors in all closets, public restrooms, store rooms and offices
Building automated system (BAS), Tridium Base Software, controls all temperatures in public areas of the hotel. This hotel is one of 40 buildings within Northwood that is interconnected using the Tridium system.
Amana DigiSmart system allows hotel to set the temperature in all rooms via a wireless mesh
Rooms have occupancy sensors so when the room is not occupied, the air conditioning will turn off to save energy and then adjust to the desired temperature as soon as the room is occupied again.
Keep blinds in guest rooms mostly closed during the summer and then in the winter open the blinds all the way up to allow the heat to enter the guest rooms so we can be more energy
efficient with heating/cooling throughout the hotel
Utilize electric golf carts and hybrid equipment for landscaping purposes
Converting all lighting to LED and CFL by March 15 (over 75% of hotel is complete)
Water Efficiency
Through a combination of native plant xeriscaping and storm water runoff harvested through the impervious surfaces of the site, the irrigation system has been designed to drastically reduce potable water consumption
By using low-flow faucets, showerheads and urinals, it is estimated that over 510,700 gallons of potable water will be saved annually
Hotel's irrigation water is used from Northwood's detention ponds, recapturing 60% of runoff to reuse for irrigation and main water supply purposes
Use an ozone laundry support system, reducing chemical usage by 50% and reducing reclaim by 60%. System allows hotel to wash with cold water only; wash cycles are shorter and use 20 gallons less water per load. Hotel also saves 10 minutes per dryer load. This leads to savings in labor and considerable savings in natural gas usage.
Recently implemented Starwood's Make A Green Choice (MAGC) program where guests can get 250 SPG points or a $5 Food & Beverage voucher if they decline housekeeping service each day of their stay for multiple night stays. Hotel is currently averaging a 60% take rate for this option to go green. This will result in savings in laundry, labor, amenities, water and energy usage.
Waste
707.35 tons of construction debris was recycled/salvaged, accounting for more than 85.55% of all waste generated from construction activities
Recycle all plastic, glass, paper and cardboard on a daily basis
Recycle batteries and all fluorescent lighting
Recycled materials are used in our meeting spaces
Bathrooms feature in-shower product dispensers to eliminate waste
Recycle used soap through participation in the Clean the World program
Email guest folios instead of printing them
Hotel's accounting department scans checks versus printing them and has implemented wire payments to over 90% of vendors
Approved a new bio-additive which will make our already recycled amenity bottled waters biodegradable.
Contribution to Local Environment and Community
Use native & adaptable landscaping
Access to 16 miles of sidewalks and bike paths throughout Ballantyne Corporate Park
Located within walking distance of retail shopping, 40 restaurants, the YMCA, walking trails, parks and ponds
Laundry and housekeeping supplies are products that offer the "Green Seal Guarantee" which ensures safety of its products, packaging and operations
Shuttle van is a BlueTec diesel Mercedes-Benz 12-passenger Sprinter that is the most efficient passenger van in the nation. It neutralizes emissions before they are exhausted to the atmosphere. Hotel also utilizes a six-passenger golf cart whenever possible to save on emissions
Feature designated parking spaces for hybrid vehicles and bicycle parking
Recently installed two electric car chargers
Two beehives have been relocated next to Northwood's flower garden at the north end of the hotel
When hotel's grease trap is emptied, the waste is reused for fertilizer for local farms
Associates participate in monthly community service activities
Team Partner in participating in the "Clean the World" initiative – donating all used guestroom soap to this partner who then processes the soap and distributes to children in need in third world countries